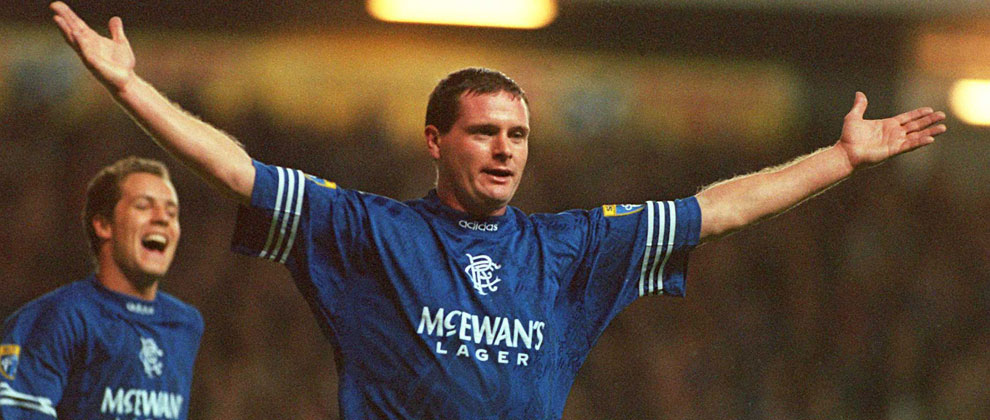 MAVERICK genius who can truly be called world class in the same breath as Laudrup. Gazza was sensational for Rangers at his best and a hindrance at his worst due to his disciplinary problems. The good outweighed the bad and boy did we enjoy it.
There were those who questioned the wisdom of signing Gascoigne. He had a history of injuries, on-field disciplinary problems, off-field skirmishes and there was a feeling that he was past his best.
His behaviour problems persisted at Rangers, but the quality of his play was wonderful, often as good as anyone who had ever donned the blue jersey.
And it was Rangers' good fortune during this time to have not just one but two very special players. With Gascoigne and Brian Laudrup in the side they were formidable.
Gazza could do just about anything he set his mind to with a football. He had instant control, quick feet that could take him past player after player and such wonderful vision to make defence-splitting passes that 40-yard killer balls were a commonplace.
He didn't help out much in defence, but when going forward with the ball at his feet he was a breathtaking sight.
He had such awareness of what was going on around him that he could change the course of a game in an instant, creating opportunities with a flick or a lob. Or he could ghost past a wall of players to set something up.
And then there was his shooting. He had a high strike rate for a modern-day midfield player – 39 goals in 103 games for Rangers. But it was in the variety that he was special.
Power shots, curved freekicks, gentle placements – they all came alike to Gazza. Yet despite being a genuine world class player, he will always leave his admirers wondering why, with such an abundance of talent, he did not achieve more than he did in his career.
The answer probably lies in his temperament. Former England manager Bobby Robson called him "daft as a brush". But it went deeper than that. He lacked self-discipline and often became so intense and fired up about what he was doing that he would lose control.
Gascoigne was born in Gateshead on May 27 1967 and had played for Newcastle, Tottenham Hotspur and Lazio before signing for Rangers in July 1995 for £4.3 million.
His performances for England in the 1990 World Cup in Italy brought him international acclaim. But in the FA Cup Final the following year, Gazza nearly wrecked his career with a tackle of extraordinary rashness.
Pumped up with adrenaline, he charged at Nottingham Forest full back Gary Charles and was carried off having damaged the cruciate ligaments in his knee.
He was out for a long time and his planned transfer to Lazio was put off for a year until May 1992. But after arriving in Italy, Gazza received another setback by breaking his leg.
He was 28 when he came to Rangers and scored on his home debut in the 4-0 victory over Steaua Bucharest in the Ibrox International Trophy in July 1995. By his fourth League match he had catapulted himself into Rangers folklore with a stunning goal in a 2-0 victory over Celtic.
It began with a long clearance out of defence. The ball was picked up in midfield and worked out to Ally McCoist on the right. At the time McCoist received the ball, Gascoigne was inside his own half. But somehow he ran to the edge of the Celtic box in time to pick up McCoist's pass and slip it past the keeper.
It was a magnificent example of what Gazza could do. But his most important contribution in his first season came, inevitably, when the chips were down.
It was April 28, 1996. Rangers were facing Aberdeen. Victory would give them their eighth successive League title, but they were 1-0 down and looking far from comfortable when Gascoigne took the game by the scruff of the neck.
First he collected the ball from a corner on the left side of the Aberdeen penalty area. He went past two defenders and from the narrowest of angles chipped the keeper for goal number one.
Next he got possession inside his own half, then ran more than 50 yards straight at Aberdeen. His strength and determination saw off the challenges and with his left foot he placed the ball into the far corner for goal number two.
Finally, he sealed his hat-trick and the Championship with a penalty. It was a one-man show, the stuff dreams are made of. But it took a Gascoigne to make them come true. It was a fitting climax to what had been a magnificent season for him.
Gazza also collected a Scottish Cup winners' medal that season in Rangers' 5-1 humbling of Hearts.
The other side of the coin, however, was that his disciplinary record was shocking. By the time he was shown the yellow card in the 1-1 draw with Celtic in March 1996 he had been booked in five consecutive League games – and it was his 16th caution in 32 matches.
And his personal problems away from the pitch continued to attract publicity.
In January 1997 his injury jinx struck again in a friendly match against Ajax and he was out for three months. Gazza had been in fine form up to that point in the season and had been the Club's leading goalscorer with 13.
He won a League Cup winners' medal, scoring twice in the 4-3 victory over Hearts, and assumed the role of cheerleader as Rangers completed their historic Nine-In-A-Row League titles.
Gazza played just 20 League games in his final season before signing for Middlesbrough in March 1998 for £3.45 million.
He won 14 of his England caps while at Ibrox in what had been a time of high drama. Rangers' then manager Walter Smith had said that you had to take the good with the bad with Gascoigne.
On the football pitch, at least, there had been an awful lot of the good. Gascoigne was one of the most gifted players ever to wear the Rangers' jersey and was adored by the supporters.