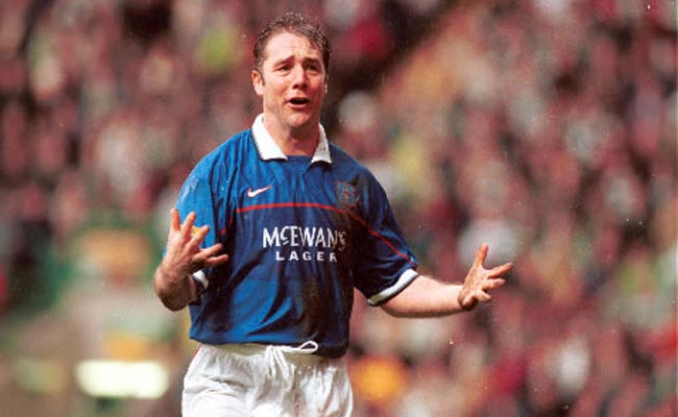 IN WORLD boxing terms there seems little doubt that Ali was the greatest.
As far as goal scoring goes for Rangers it is Ally.
In 15 glorious years as a Light Blue, McCoist smashed all of the striking records to set a standard which, given the frequent movement of players these days, which will never be bettered.
He holds the Rangers record for league and European goals. He was the first Scottish player to win the Golden Boot, then promptly retained it, and he was the club's leading scorer in nine of his 15 seasons.
His predatory power was simply awesome and he added to the spectacle of it all with his effervescent personality and natural wit which has stood him in good stead in his current television career.
Rangers tried once previously before finally capturing McCoist, who had started his career at St Johnstone and then moved to Sunderland, but initially there were some dissenters.
Ally's early misses were indicative of the poor Rangers team he was playing in, but it was a momentary lapse. He soon became the hero of the massive support.
His highest total in the League was 34, which he reached three times in 1986-87, 1991-92 and 1992-93.
McCoist scored no fewer than 28 hat-tricks for Rangers. His highest number of hat-tricks in a season was five which he achieved twice. His best individual haul in a match was netting all four goals against Falkirk in October 1992.
He is second in the list of Rangers scorers in Old Firm games with a total of 27. But the man who holds the record, R. C. Hamilton, hit his 35 at the turn of the last century.
McCoist was often at his best in a crowded penalty area, snapping up half-chances. He had an unerring knack of being in the right place at the right time allied to a great hunger to get on the scoresheet.
He read the game well and the secret of his finishing was his anticipation which allowed him to seize chances often before defenders realised the danger.
He was one of only three players to feature in all Nine-In-A-Row titles – the others were Richard Gough and Ian Ferguson.
He flourished in the early Souness with vital strikes against Celtic and in cup finals but his personality seemed to clash with the manager and he found himself on the bench for much of the 1990/91 season, earning him the nickname "The Judge".
Walter Smith changed all of that when he took over and McCoist went on to become even greater as a Rangers striker, with he and Mark Hateley becoming a phenomenal partnership that produced so many goals.
He broke his leg playing for Scotland in Portugal in 1993 and missed the last seven League games and the Scottish Cup Final. He had still scored 34 goals in the Championship, but the injury robbed him of the opportunity of setting a new personal high.
His last match for Rangers was in the 1998 Scottish Cup Final. Fittingly he scored, but the Scottish Cup was never his luckiest competition and he finished on the losing side as Hearts won 2-1.
McCoist, who scored 19 goals for Scotland and played in the 1990 World Cup in Italy, left to join Kilmarnock in the Summer of 1998 where he played for three years before retiring.
He moved into the media world and then joined Walter Smith with the Scottish national team. On January 10, 2007 he sensationally returned to Rangers as assistant manager to Smith.